The MAJORS touts itself as the most selective all-star cheerleading. Each year they invite the biggest and best names in cheerleading to compete on a single stage for a one-day event. For The MAJORS 2019, they've invited 26 teams from around the country to gather in Indianapolis, Indiana on Friday, January 18, 2019.
The MAJORS 2019 takes place the night before JAMfest SuperNationals – one of the largest all-star cheerleading competitions of the season. See who's competing for a Cheerleading Worlds 2019 bid here. All of other Cheerleading Worlds bid events can be found here.
New this year, junior teams will grace the stage alongside their senior counterparts. See below for the teams who are scheduled to compete and their competition order.
---
Performance Order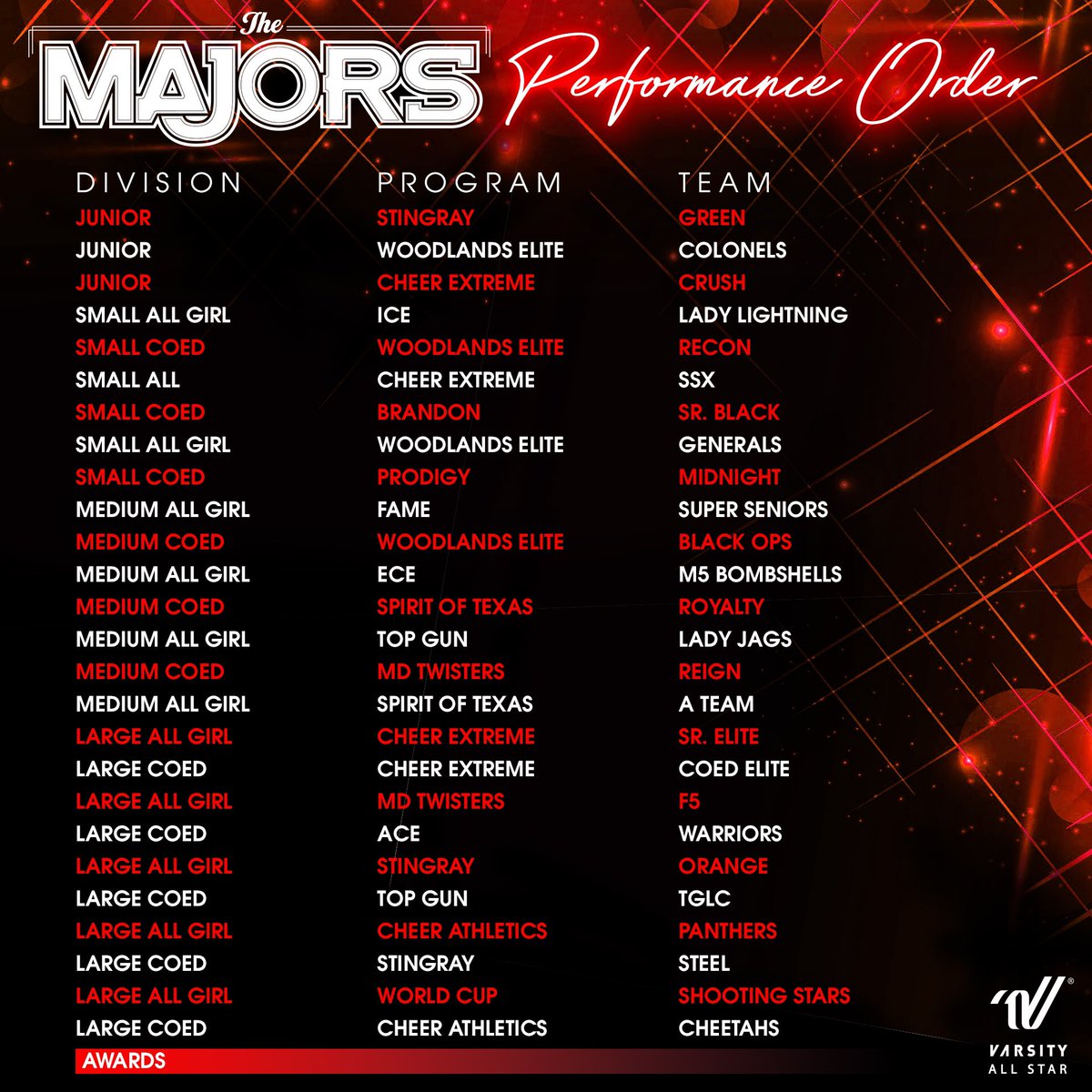 ---
Junior
Cheer Extreme Crush – 96.6667
Woodlands Elite Colonels – 96.4000
Stingray All Stars Green – 94.6167
---
Small Senior 5
Cheer Extreme SSX – 96.4
Woodlands Elite Generals – 93.55
ICE Lady Lightning – 92.1
---
Small Senior Coed 5
Prodigy All Stars Midnight – 97.1167
Brandon Senior Black – 96.7
Woodlands Elite Recon – 93.25
---
Medium Senior 5
East Celebrity Elite M5 Bombshells – 96.1333
Spirit of Texas A Team – 95.3167
Top Gun All Stars Lady Jags – 94.8333
Fame Super Seniors – 93.7833
---
Medium Senior Coed 5
Spirit of Texas Royalty – 97.0333
Woodlands Elite Black Ops – 95.8167
Maryland Twisters Reign – 94
---
Large Senior 5
Cheer Extreme Senior Elite – 96.7333
Maryland Twisters F5 – 96.7
Cheer Athletics Panthers – 96.65
Stingray All Stars Orange – 95.9333
World Cup Shooting Stars – 94.4
---
Large Senior Coed 5
Stingray All Stars Steel – 98.0667
Cheer Athletics Cheetahs – 96.1500
Top Gun TGLC – 95.5333
ACE Warriors – 94.0333
Cheer Extreme Coed Elite – 93.9500
---
More Cheerleading Resources: